One of the new handy features in Artweaver 4.5 is an automatic recovery of all opened documents after Artweaver has been unexpected quit. This feature is only activated in very rare situations when Artweaver crashes or hangs but then it is very helpful. By default Artweaver saves the status (or more precise only its events) of all opened documents every 10 minutes but this can be changed in the application preferences to the own needs.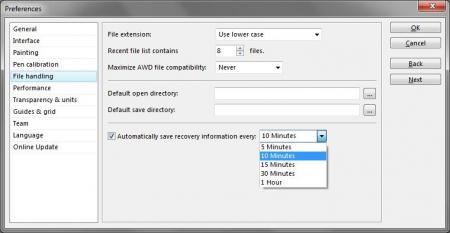 Should Artweaver really stop working during editing documents, all opened documents from the last recovery information are restored on next Artweaver startup. This is completely done automatically by replaying all events of each document and after finishing a notification message is shown.

Of course we are always working on improving the stability of Artweaver in every situation but on a crash / hang no more (big) work loss should happen with version
4.5
or
later
.